Purnea University Purnea provides various course under Undergraduate, Post Graduate, and diploma courses.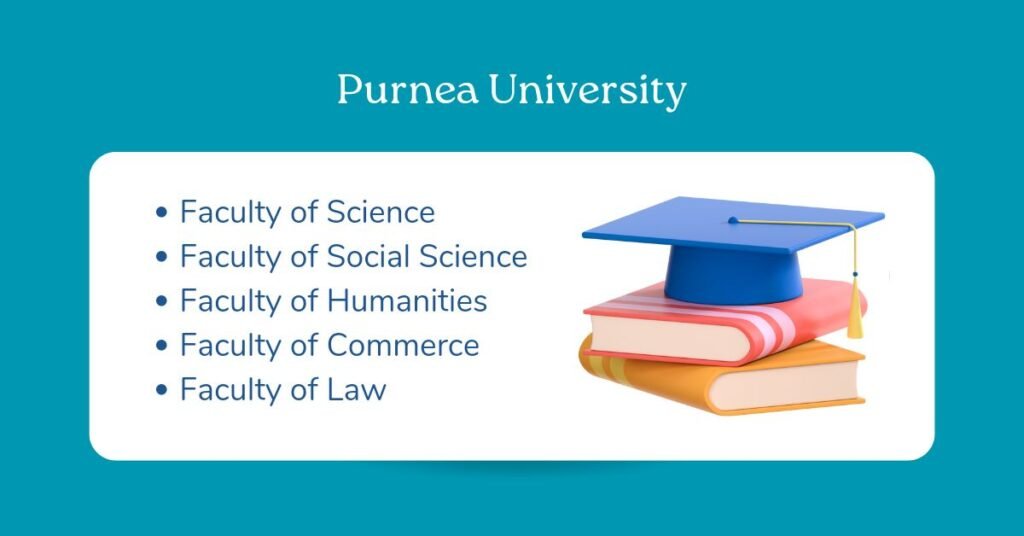 Purnea University Course list – Details
Faculty of Science
The Faculty of Science is the scientific training ground for all graduate students at the university. The faculty of science is also dedicated to the objective of high-quality research, encouraging economic development through cooperative research and technology transfer with the private sector. The faculty of science encompasses five academic departments.
Department of Physics
Department of Chemistry
Department of Mathematics
Department of Zoology
Faulty of Social Science
The faculty of social science makes a valuable contribution with research that has wide-ranging influences on society, health & welfare, including the economy, public policy culture, and the environment. The Faculty of Social Science encompasses eight academic departments.
Department of History
Department of Economics
Department of Political Science
Department of Psychology
Department of Sociology
Department of Home Science
Department of Geography
Department of Music
Faculty of Humanities
The faculty's purposes are visible in both its teaching and research. The faculty offers a challenging study environment in which research and education are closely entangled. The faculty of humanities encompasses eight academic departments.
Department of Hindi
Department of Urdu
Department of Bengali
Department of Maithili
Department of Persian
Department of Sanskrit
Department of Philosophy
Faculty of Commerce
This programme prepares students to succeed in their profession, imparting learning to them through real-life orientation, case studies, role plays, and other practical activities. Students are given training in soft skills and setting up their own start-ups. The faculty of commerce encompasses academic departments i.e. Department of Commerce.